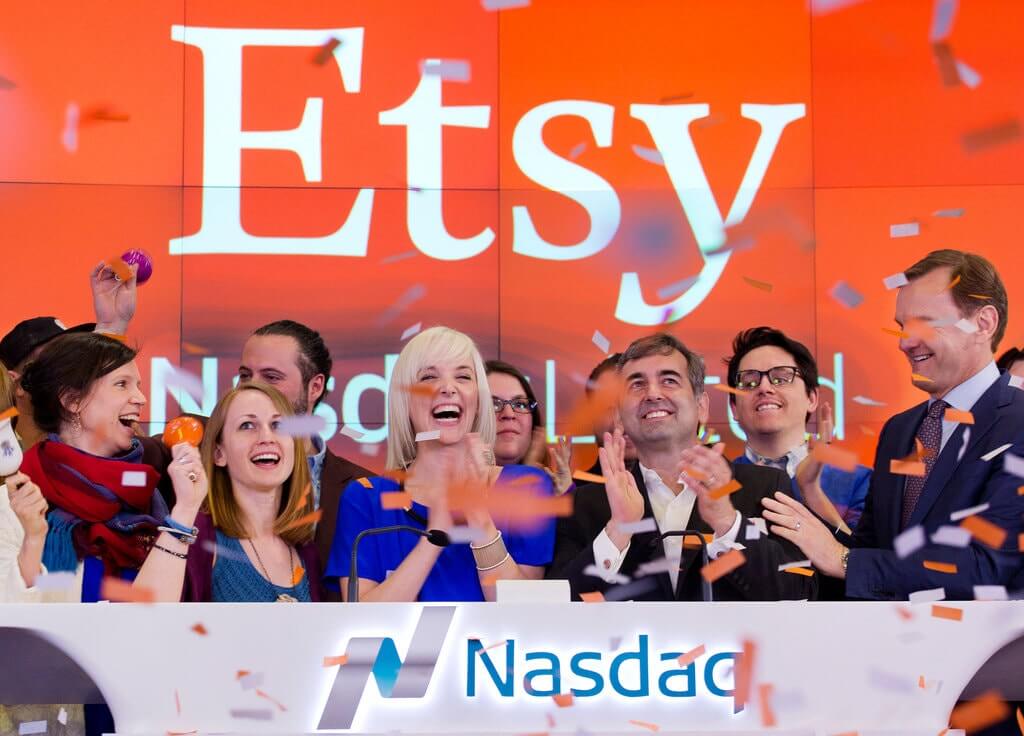 How Etsy Works & Makes Money: A Comprehensive Guide to the Business & Revenue Model
Etsy is a hugely popular e-commerce website that allows people to sell their handmade crafts, vintage items, and other products to buyers around the globe.
Etsy's mission statement says it best: "To enable people all over the world to make a living making things."
Etsy has been around since 2005 and provides an online marketplace for artisans to connect with buyers. In this article, we will explore how Etsy operates as a business and how they make money from their platform. You'll learn about Etsy's journey so far in its quest to be the "world's most vibrant handmade marketplace" by 2022.
Facts about Etsy
Etsy was founded in the year 2005 by  Robert Kalin, Haim Schoppik, Jared Tarbell and Chris Maguire. It is headquartered in Brooklyn, New York, USA. It has received over $300 million in funding till date. It is currently listed on US stock exchange since 2015.
Etsy has over one million active sellers on it's platform who sell more than three billion different items globally.
Etsy has over 50 million buyers on its platform. Etsy had more than 20,000 employees in the year 2018 across 60 countries.
Differentiating Features of Etsy
Some key features which differentiate Etsy from other marketplaces are as follows:
Etsy only features one-of-a-kind products in the art and craft, handmade, and vintage categories.
Products under Vintage category can only be listed if they are minimum 20 years old with proof.
Etsy is one of the few global e-commerce platforms that offers Free global shipping.
Women make up a larger portion of Etsy's members. It has 67% female members.
Etsy Value Proposition and key segments
The key value proposition provided by Etsy lies with the features they provide to their 2 key segment of users: buyers and sellers:
For Buyers
Buyers can explore Etsy, find unique pieces of art and purchase them in Etsy shops and get delivered to their homes globally.
Etsy provides free shipping globally to all it's buyers.
For Sellers
Etsy provides its sellers with tools to create their own unique online shops on Etsy for free, which is one reason why so many Etsy users are drawn to this network in order to sell their goods and get paid through PayPal directly from buyers around the world.
Sellers can sell their items without paying any listing fees or commissions on Etsy
Etsy brings buyers to seller shops with its own marketing channels (Etsy front page) & SEO (organic listings appearing high in search engine results for relevant searches).
How Etsy earns money (Etsy Revenue Model)
Etsy is also known for a particular revenue strategy, which is just as unusual as its product offerings.The following are the major revenue models which Etsy uses:
Product listing fees
Etsy charges vendors to list items on its marketplace. However, the cost of listing something on Etsy is only $0.20, but it adds a significant amount to total etsy earnings.
Commissions on Sale of products
Etsy takes a commission for each purchase, in addition to the fee for having an item listed.The fee for the commission has been set at 3.5 percent. Sellers may establish their own selling price, but Etsy takes a 3.5 percent commission from the selling price before remitting money to the seller.
Sponsored Advertising
Etsy charges extra money for advertising options like making a product as featured product etc. on it's marketplace. Sellers can advertise their businesses and, as a result, increase their sales.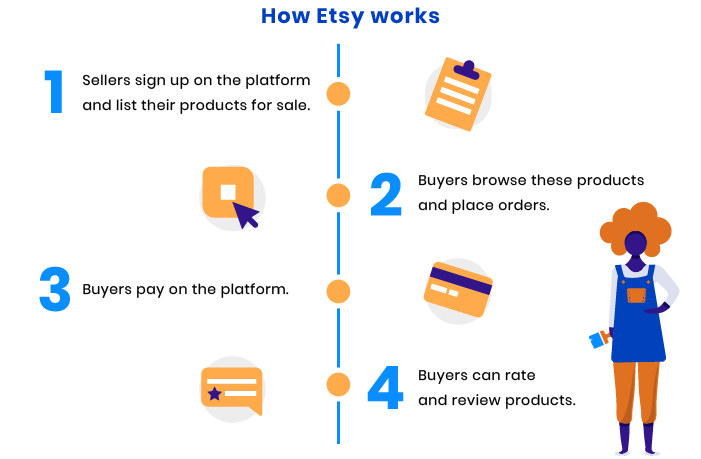 How Etsy works?
Sellers signup and list their unique products by creating a shop
Buyers attracted to the website by Etsy's marketing channels browse through these products and place orders
Orders placed by buyers are processed and passed to the sellers along with the payments (after deducting it's own commissions)
Etsy takes care of delivering the orders from the seller to the buyer
Buyer's can later review and rate their purchase made through Etsy
Why Etsy became so powerful?
Some unique features which helped Etsy to differentiate itself for bigger players like amazon, ebay etc.. are as follows:
Unique Advertising Channels
Etsy's own Etsy Studio allowed shops to create their own TV commercials and also use Etsy's other unique marketing channels like email marketing, social media etc. Etsy offered a free service for sellers where they can showcase their products through these mediums before opening up an actual shop on the website
Etsy used word of mouth  and referral marketing to promote Etsy's own Etsy Studio. They encouraged users to invite their friends and family members through a special link which would earn them $15 credit for every successful sign up or purchase made by the referred person
Creating open business APIs
It was Etsy's idea of encouraging the creative economy. Etsy has an open API which allows developers to create their own apps and services around Etsy and even sell those services to shop owners on Etsy marketplace.
Help and support to the Artists
Etsy provides the artists  with Etsy Education which serves as a source of knowledge for how to sell on Etsy. The education section provides video tutorials, written guides and live webinars about Etsy's systems.
Etsy also provides offline workshops which provides Etsy sellers an opportunity to meet and learn from each other.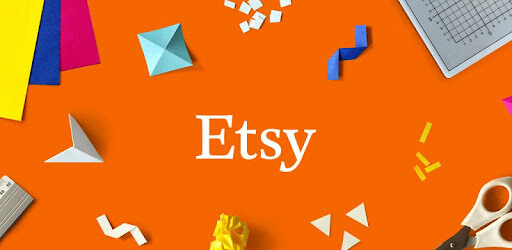 Etsy Manufacturing Program
Being one of Etsy's initiatives, it is a program for Etsy shop owners who want to manufacture their own products in small batches outside of Etsy. It helps artists by providing them with raw materials and other required domain expertise. Etsy has an active Etsy Manufacturing community where Etsy sellers can share their knowledge with each other.
Etsy Wholesale Program
Etsy Shop Owners are also  interested in Etsy Wholesale, which is a program for large retailers who are looking to buy unique products from Etsy Sellers, without the need of opening up their own online store on etsy.com
Do you want to start your own unique marketplace like Etsy? Try Zeew and kickstart your startup journey today.