The advanced step-by-step guide to starting your online marketplace in 2022
100 biggest online marketplaces raked in $2.1 trillion in sales in 2021.
This makes up more than 65 percent of the total online sales generated in the whole year.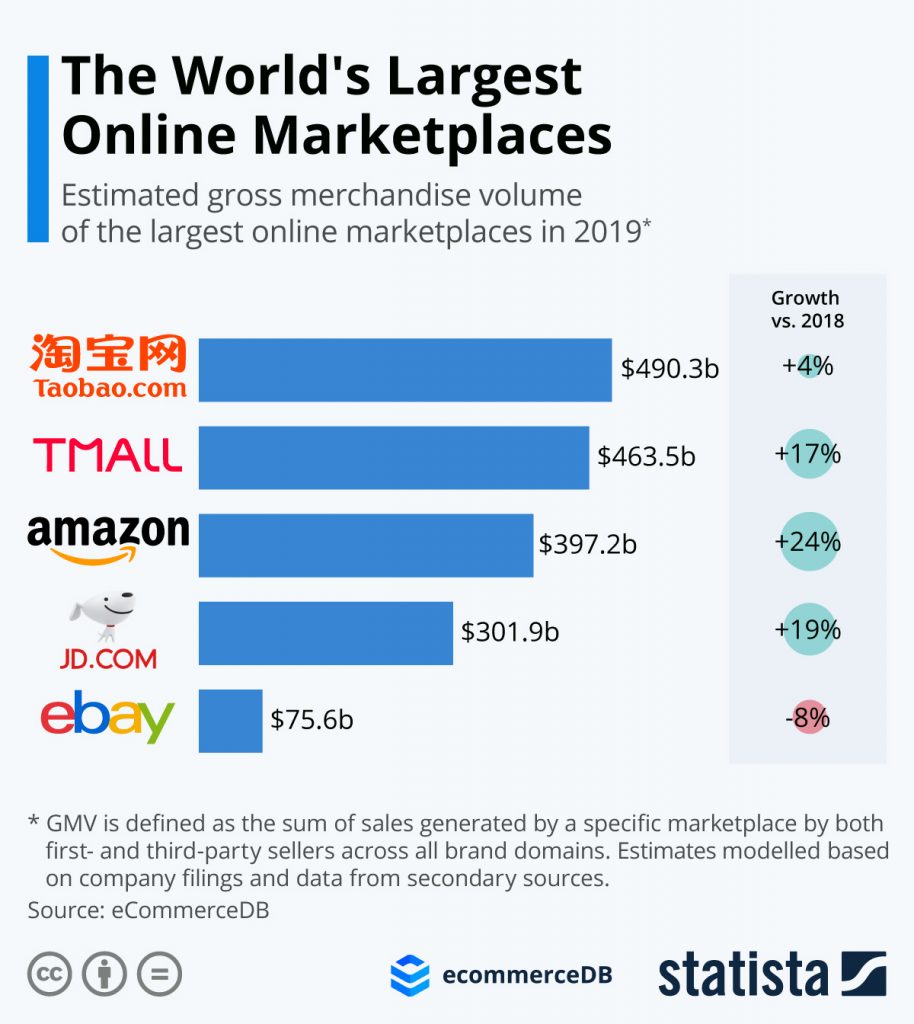 (image from https://www.statista.com/chart/24405/top-5-online-market-places-by-gmv/)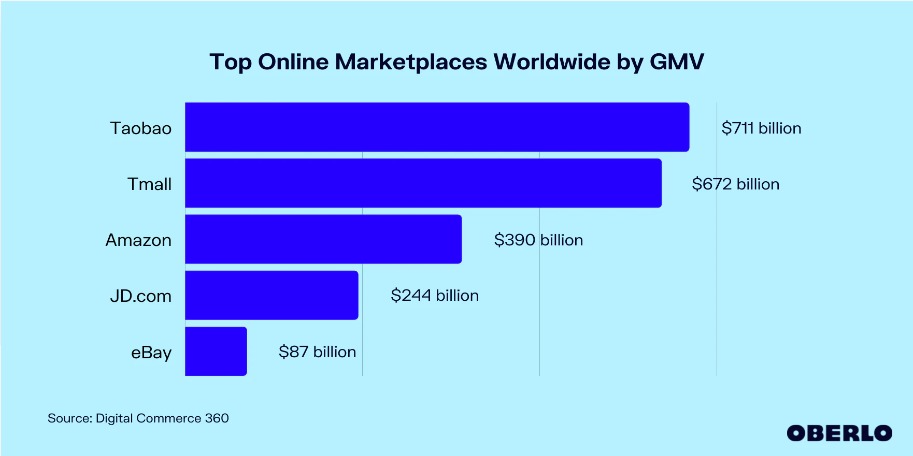 (image from https://www.oberlo.com/statistics/top-online-marketplaces-worldwide-by-gmv)
In this vast online marketplace world, just the food marketplace niches alone are expected to make $320 Billion in revenues in 2022 and then projected to keep making even more insane amounts of money for as long as we have the internet and people who want food. 
The best part is?
There are user friendly services like Zeew to help you create your own marketplace. 
So, to help you build your online marketplace the right way, we have compiled a step-by-step guide to starting your online marketplace.
Overview
Here's an overview of how to build your online marketplace.
1- The planning stage
1a. Start by forming your idea
This is where you ask questions that make it easier to understand your business. Questions like What is the size of the market you're trying to get into and what is its growth potential?
1b. Validate the idea 
Get to know what people think about your idea and its viability.
(It is always good to get ideas validated by unbiased third parties.)
1c. Research and define your market
Next comes the groundwork. Reach out to your target audience to know them better and define your audience precisely.
2- Working on developing your ideal website 
2a. Test your prototype
Now, you'll need to build a prototype or a minimum viable product to see how well your idea would sit with the market.
2b. Build your business structure, website, and marketing plan.
As your foundational idea is validated it's time to start building structures for the working and promotion of your marketplace.
3- Take messy action. Exciting opportunities for the future
Great ideas are not worth much if they are not implemented smartly. Sitting and planning will take you nowhere, unless you get down and dirty. No plans will prepare you for what the real-world will.
Now that you have the gist. Let's dive deeper.
1. The Planning Stage
1a)
Start by
forming
your
Idea
Start with what kind of marketplace you want to venture into. Food, cosmetics, pharmacy – the possibilities are endless.
When brainstorming, it helps to ask simple and well defined questions at this initial stage followed by online research.
What problem is your website going to solve?

Who is your target audience?

What market space does your solution fall into?
(Source)
Now do these steps.
Take your time.
Go online and get exact stats on the total market size

Niche down and get exact stats of your exact target audience

Niche down further and get at least 10 measurable  and confirmed problems you're trying to solve. In other words, the fact that the problem you're addressing should be a market-recognized problem.

Find out what is the buyer-seller ratio in the industry, and if it's optimum for your marketplace to function or not.
This will give you a mind map of the scale you're operating at. At this stage it will look chaotic but don't get scared and keep persevering. 
Here is a little story about how the founders of ETSY did it when they were starting out.
In 2005 the founders of ETSY got tired of creating websites for others, so they decided to start an online marketplace of their own. Their main products were craft items and their main target audience were women. It was a very high potential market with very few competitors at that time.Because most women who did craft work needed a place to sell that was not as expensive as eBay. And that's when GetCrafty.com (now ETSY) came to the rescue.
From there ETSY catapulted to the disruptor 50 list 10 years later.
Our lesson to learn here is the laser sharp focus that Rob Kalin, Jared Tarbell, Haim Schoppik and Chris Maguire had when it came to drilling down on a specific niche market to target for their website.
Now onto the next step.
1b) Validate your online marketplace idea
You have the ideas. 
Now it is time to test them against real world data and get confirmation.
Here's how you can validate your business idea:
Evaluate the market size and share.
Now figure out the share of the market that you can realistically get and the size of the overall market. It will help you understand the demand and growth potential of the products you put up on your online marketplace.
Look up online search volumes for industry-related terms.
As you are building an online marketplace, this step can be extremely helpful as it helps you understand online demand. It also gives you a deeper insight into your customer's awareness of the product as well as their buying behavior.
Carry out customer interviews
Going out and actually talking to people is great for getting qualitative data. The main idea behind your marketplace venture is to solve a problem better than anyone else. Frame your questions in ways that help people recognize those problems, which is sure to make them want  to talk about it. Thus giving you priceless insights.
Once your idea is validated it's essential to make sure that your execution is as well thought of as your idea. And to ensure that you must go through the following steps so you don't miss out on any of the essential stages of building your online marketplace. With the ground work nicely laid out you can be sure that the next step is off to the right start already.
How to conduct your research
You might have heard about the importance of research several times, but how to do it the right way? 
(Source)
Here's how:
These conclusions will help you make confident decisions about your venture. 
How to define your market.
Now as you're done with your research and know a fair bit about your customers, it is time to niche down and define your target market.
Now for the actual website
You have the numbers. Now let these numbers create a meaningful business forward for you – most importantly, a monetizable business.
Because every good idea or "big numbers" do not necessarily turn into a good business.
2a. Test your prototype
Once you understand the market and your consumers well enough, the next step is to create a prototype of your marketplace and test it. This helps you get an accurate and unbiased reaction from your audience and helps you understand what they feel about your products or services and how they would perceive them. A test run is also beneficial for finding out what you can add or remove from your marketplace to make it more attention-grabbing and useful for your customers.
Zeew helps you manage the categories on your marketplace. Hence, as you do your test runs you can always add or subtract categories from your marketplace. 
2b. Design your website
Now as you've tested your prototype it is time to design your actual web pages and get your online marketplace up and running. While designing your website you must pay attention to all of the details. 
By the way, Zeew can have you up and running in as little as 7 days.
But more specifically keep the following in mind:
2c. Design a system for reviews
Now, any website or online marketplace is incomplete without a system for customer reviews. Reviews not only help you understand what your customer thinks about you but also helps you update your marketplace to serve your customers better.
Also, maintain a level of transparency in your reviews to build credibility amongst your customers.
2d. Decide payment integration methods
Many people prefer online transactions and e-wallets to make payments. Also, quite a few people stick to the traditional cash-on-delivery method. When building your own marketplace make sure you offer all the major payment gateways to ensure that you don't lose customers just because you don't offer their preferred mode of payment.
Zeew provides multiple payment gateways like Cash on delivery, Zeewpay, PayPal, and Stripe. You can also integrate additional gateways at an additional cost.
3. Take Messy Action
3a. Build your team
Now, as your marketplace grows, you'll also need to build a team. The best option for going about this is to start small and build as you go. It is also necessary to hire highly skilled and dedicated individuals and offer a lucrative salary to attract talented individuals who'll help your marketplace grow.
As an online marketing place, your marketing team, sales team, customer relations team, and the delivery fleet would be the most important aspects of your business. Hence, try and pick individuals with skills and potential.
3b. Create a content marketing plan
As a new marketplace, digital promotions would be very handy, both in terms of reaching your target audience as well as marketing on a budget. Figure out how your target audience gets their information about your area of products or services and work on building your presence on such platforms.
Popular platforms used by online marketplaces are as follows:
3c. Set milestones for your online marketplace
As you go about setting up and promoting your marketplace, set a list of milestones that you want to achieve in a particular timeline. These milestones help you stay motivated and ensure that you aren't slacking.
Also, having milestones to reach your goals helps you keep track of your progress and check if you're working in the right direction.
Conclusion
'No matter how hard you work. Someone else is working harder'
– Elon Musk 
Planning is a rabbit hole you can not come out of unless you realize that every day you are not out there taking action, you are losing money. Or worse, will get beaten to a pulp by faster, more courageous competitors. 
Building an online marketplace is definitely not a cakewalk. But with the right resources, information, effort, and patience, you can build an online marketplace that would help you become a part of the thriving digital economy.