What is DoorDash and How Does the DoorDash Business Model Work?
Have you ever heard of DoorDash? If not, it's about time you learn what it is and how the business model works. This article will give a brief overview on the company, as well as dive into their unique value proposition and how to start your own business like them.
What is DoorDash?
DoorDash offers food delivery to customers who want their favorite restaurant delivered right to their front door – no matter where they are in a city. The company was founded in 2013 by four Stanford graduates, with an aim to make ordering take-out easier for everyone.
Facts about DoorDash
DoorDash works with more than 200 restaurant partners in over 300 cities across the United States. They include national and regional chains as well as local restaurants that offer food delivery.

The company's mission is to "enhance life through smarter services" by offering their customers a variety of options for on-demand deliveries from any city center

DoorDash is headquartered in San Francisco and has raised $2.5B in funding till date

DoorDash is a Y-Combinator backed company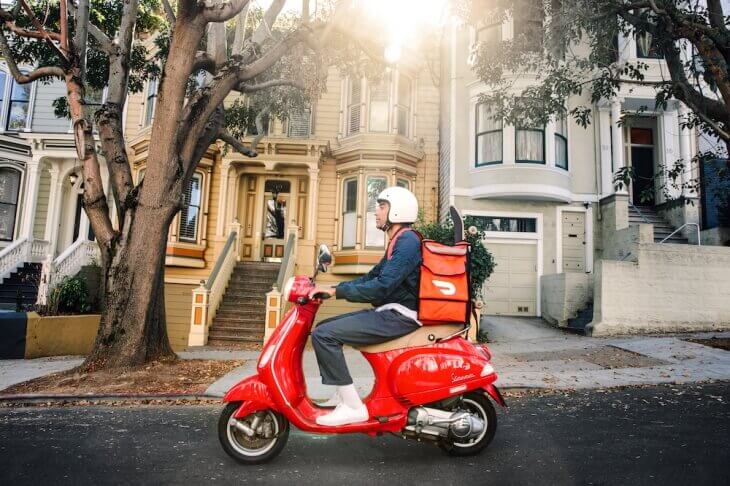 Salient Features of DoorDash
DoorDash hires its own drivers for delivery and provides them with an iPhone which is pre-loaded with the DoorDash app.

The company has grown to more than 30,000 drivers across 300 cities in just three years of inception. It claims that it takes less than 24 hours for a driver to get started on the platform once he signs up and completes required paperwork.

DoorDash charges a delivery fees between $3 to $8 from the customers

DoorDash charges 20% commission from the restaurants
DoorDash's 3 Customer segments
Doordash's 3 customer segments include restaurants, customers and drivers
DoorDash's Restaurant segments include both independent (non-chain) restaurateurs as well as chain store owners. Chain store owners are charged a fixed monthly fee for using DoorDash service. Whereas, individual Restaurants pay the 20% commission on every order that is handled by them through doordash platform.
Doordash's Customer segments include both consumers and businesses. Consumers can order Food from restaurants that offer DoorDash delivery service by using the doordash App or website. Restaurants like McDonalds, Chipotle etc also use door dash to deliver food for their customers because it reduces waiting time in lines.
Door Dash's driver Partners are called dashers. They primarily include people looking for delivery jobs . Dashers can sign up online through doordash's website. For now, DoorDash is available in 86 markets across the U.S and they have a total of 40k dashers on their platform.
Value Propositions offered by DoorDash
DoorDash has a Y structure Business Model, which focuses on customers, restaurants and drivers.
For Customers
DoorDash offers a high quality, fast delivery service at an affordable price. Customers get the food delivered to them within 30 minutes of placing an order on their website or through doordash App. It also allows the customers to track  the delivery status in real time.
For Restaurants
DoorDash helps restaurants expand their customer base by allowing them to reach new customers in nearby areas easily and quickly while reducing waiting time. It allows small restaurants  to grow exponentially by providing them with an affordable delivery service. For example, a small restaurant in San Francisco can easily deliver food to customers in Palo Alto within minutes through DoorDash's Y business model.
For Drivers
DoorDash offers flexible working hours and a decent pay for the work done by Dashers. The average earnings per hour is around $25 to 35 per hour, which can further be increased if one works during peak times like weeknights or weekends. Dashers get paid weekly through PayPal.

DoorDash's 4 step model
The majority of the On-Demand logistics firms utilize a similar structure, but the minor variations account for the distinction. If you're thinking about establishing a similar business, keep these things in mind.
Choose Order from Website or Mobile App
Customers can browse for and place orders on the DoorDash website or mobile app. However, not all places in a city can offer delivery services. Users can only see the restaurants that are available for delivery in their area.
Make Online Payment
Customers can make payment for their orders through DoorDash. This order is then transferred to the restaurant where it is prepared and packed for delivery.
Track Order
Customers can track the status of their orders through the DoorDash App. The delivery person will be able to see where they are on route, and customers get notifications when an order is out for delivery. Customers also get updates if anything goes wrong with the order (e.g., a food item was ordered but not prepared by the restaurant).
Delivery of Orders
DoorDash auto assigns the nearest available dashers to the orders. The dashers have to visit the restaurant in person, pick up the order and deliver it. The customers can also tip the Dashers through the DoorDash app.
How does DoorDash make money
Understanding the mode of revenue generation is critical for any budding entrepreneur considering a business in On Demand Logistics or food delivery. DoorDash makes money through the following revenue channels:
Commission on orders from Restaurants
DoorDash charges upto 20% commission from Restaurants per order.
Commissions from Restaurant Advertising on DoorDash
Restaurants can advertise on DoorDash marketplace to get more orders. The restaurants pay a fee for such advertising and this is another source of revenue generation for the company.
Delivery Fees from Customers
DoorDash charges delivery fees from $5 to $8 per order from the customer. The fee is used to compensate the drivers or dashers.
What is the Future for DoorDash?
DoorDash has gone through several stages of growth since opening its doors in 2012. The firm is constantly expanding and innovating, even as it remains one of the most popular food delivery companies in the United States. DoorDash seems to be using technology as much as possible in its operations, and it appears to be evolving swiftly.
The company has developed a unique restaurant rating system known as the "Delight" score. It uses a 10-point grading scale to provide an accurate estimate of how much a new customer may anticipate to be delighted based on delivery quality, popularity of the restaurant, and client feedback. This score will assist customers in selecting a restaurant for their order.
DoorDash, as of now, is concentrating just on food delivery, but it may expand to other areas in the future and provide fierce competition to other companies in the on-demand delivery business.
Do you want to start your own firm like DoorDash for food delivery? Try Zeew and kickstart your startup journey today