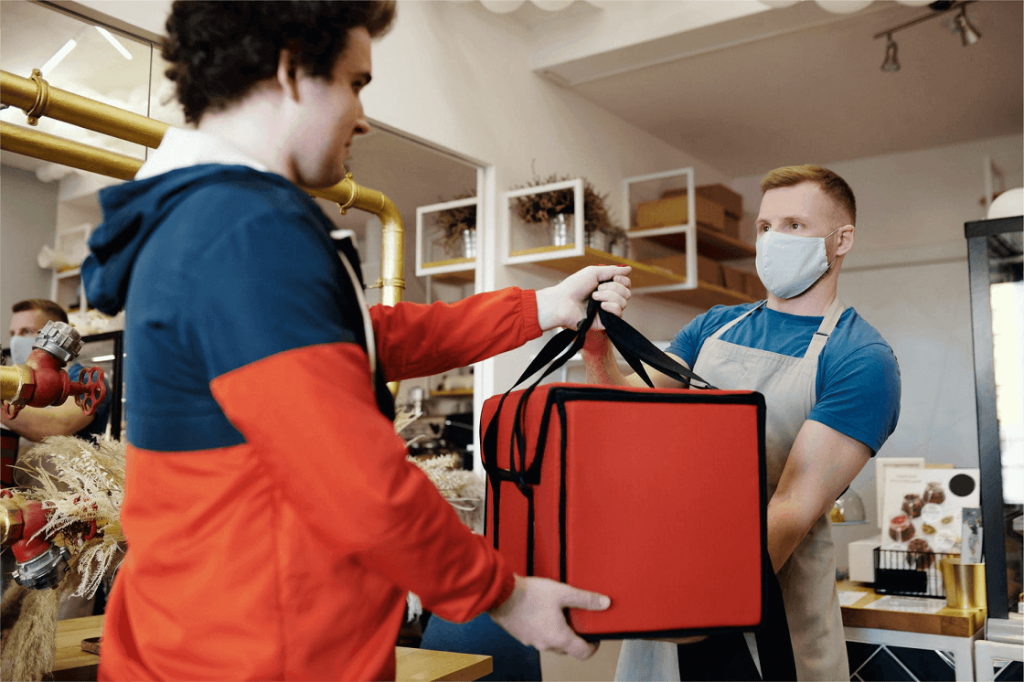 Food delivery systems are a great way to increase your business's profits and revenues. It is used by restaurants, cafes, and other food establishments to manage orders and deliveries. There are many different types of food delivery systems available today, each with its own set of features and benefits. In this blog post, we will go into detail about types you might choose from. But before discussing the types of food delivery systems, let's highlight the features and benefits of the food delivery systems.
The benefits of a food delivery system:
The benefits of food delivery apps are numerous. Food delivery services not only provide the user with tasty, healthy meals; they also save time and money that would otherwise be spent cooking or buying takeout. Apps like these help businesses save on costs involved with running a restaurant – no need for servers or cooks as food is delivered straight from kitchen to customer's home or office.
What are the benefits for restaurants and customers?
Running a restaurant or cafe is not an easy task, these food delivery apps help the restaurant and cafe owners to reduce their work. Also, food is delivered straight from the kitchen to the customer's home or office so that customers do not need to wait for a long time as well as there will be no parking problem. It saves time and money for both customers and restaurants.
How does a food delivery app work?
A food delivery app works by connecting the customers to different restaurants – online. Customers order their favorite dishes through an application, which is then delivered straight from the kitchens of selected restaurants to the customer's place with a few clicks on mobile devices.
Typical process flow for food ordering apps:
1- Ordering food
Customers can choose his/ her favorite meal through different restaurant options, all options are available on the marketplace
2- Preparing food:
the food is prepared and ready to be delivered as soon as the customer confirms his/ her order, so it is fresh.
3- Delivering food to the customer:
As food is delivered straight from restaurant's kitchens, so it's fresh and delicious. This reflects in the high level of customer satisfaction because he/ she order his meal online without any hassle or stress.

Types of food delivery systems business models
Food delivery systems can be broadly divided into three main categories:
The Order Only Model
First-generation of ordering food delivery systems, such as Grubhub and Eat24, this model is based on customers ordering food online or through an app, without any type of preparation needed by the restaurant owners. The goal here was replacing orders by phone and taking the orders directly from customers, which made a huge impact on restaurant owners' revenues and profits.
Order allocation
This type of food delivery system business model is based on customers ordering their meal online, or over the phone, and the system here is working on collecting orders and connecting them with restaurants in order to make them available for them.
Delivery:
There are 2 scenarios that go with this system
1- delivery men are employed by restaurants and they are responsible for delivering orders from restaurants to customers.
2- the second scenario is: the restaurant is dealing with a third party responsible for food delivery.
Limitations:
– this system has limitations on the maximum number of delivery per hour.
– if the restaurant is not near to the customer's location, the order will take more time for arriving at his/her place, which means they don't have control or optimization over it.
Advantages:
– this delivery system is not expensive.
– the restaurant can track their order online and get customer feedback through it.
– customers are satisfied with food quality by restaurants, they don't have to do any cooking or clean up work after that which makes life easier for them.
The Order & Prepare Model
The second generation of ordering food delivery system business models, such as DoorDash, this food delivery system business model is based on having more orders and distributing the orders to their fleet connected by an Uber-like mobile app. This means that restaurants also need to be connected with a system in their own kitchen in order to be able to accept orders.
Order allocation:
Orders are taken on the app or website interface, sometimes the marketplace allows the restaurant to increase the price a little bit for the delivery service so it covers the cost of delivery. The new food delivery app business models are not just an on-demand service, but a complex mix between logistics and restaurant management/point of sale systems that restaurants need to be connected with in order to accept orders.
Delivery:
couriers have their own dedicated mobile apps where they receive the orders and can choose to accept or decline the orders, the system will show him the best route, pick-up, and drop-off points, the best times for deliveries. With this system, customers can track all steps of the journey in real-time.
Through an algorithm that calculates distances between restaurants/couriers based on historical data to calculate how long it will take for a courier to reach the drop-off point. 
Limitations:
This business model takes a lot of time and effort from the business owner and operations to make it work, every step needs a lot of time and attention from the team.
Advantages:
This type of business model is very popular in the larger cities around the world because they are able to provide high-quality service with big fleets of cars/couriers who use an app. They offer services that on-demand marketplaces can not provide, such as food quality and customer satisfaction.
Their prime feature is that they can offer a range of restaurants and price points that software-only marketplaces cannot.
The Fully Integrated Model
The third type of food delivery app is a fully integrated food delivery app model, which provides the full stack of services from restaurant curation to driver management. This type of business is great for restaurants that want an easy way to expand their market and increase profits. They have their 
Mobile apps, have a private fleet, serve a small or specific area, and can deliver in a very short time which means they have control over quality and price.
Scheduled Delivery
The kitchen here opens and receives the order before/ pre-preparing the meal, so they can reduce wasting of meals that have not enough demand.
Another benefit of this business model is: easy access  to your restaurant menu by potential customers around you or in an area with high demand

Instant Delivery
The kitchen here opens and receives the order after preparing the meals, so they can deliver fast preheated meals.
Order allocation:
The decision to assign a particular order to a courier can happen whether in 2 ways:
Without any admin involvement.
The system chooses the nearest courier and assigns the order to him.
with small admin involvement.
Here admin who is responsible for allocating the order to the nearest courier.
Delivery:
Each driver is given a number of packed meals, requests, and routes, then he can choose how to deliver it depending on 2 factors:
1- first come, first serve: preference here goes to the customer who orders first.
2- based on location: distribution here depends on the nearest client to the courier.
after reading this article, you now know the difference between food delivery systems for star-ups, if you wish to be one of them, just get in touch with Zeew team from: https://zeew.eu/book-demo/