In the bustling streets of Saudi Arabia, a revolution in food and grocery delivery was taking shape in 2018. Hurry Bunny, a name now synonymous with convenience and quality, emerged as a beacon for those who craved their favorite meals or needed groceries without the hassle of stepping out. Today, Hurry Bunny stands tall as a multi-million-dollar enterprise, a testament to its relentless pursuit of excellence and its strategic partnership with Zeew.
The Evolution of HurryBunny
Hurry Bunny's journey began as a simple yet ambitious idea: to deliver food and groceries with just three clicks. The platform was designed to cater to a vast audience who preferred the comfort of their homes over waiting in long queues. With its user-centric approach, Hurry Bunny quickly gained traction, becoming the go-to app for many in Saudi Arabia.
The Zeew Edge
The seamless experience that HurryBunny offers today is largely attributed to its collaboration with Zeew. Recognizing the challenges in the food and grocery delivery segment, HurryBunny leveraged Zeew's cutting-edge technology to streamline its operations. From order processing and restaurant management to delivery coordination, Zeew's comprehensive suite of features played a pivotal role in HurryBunny's success.
Revenue Streams: A Multi-Pronged Approach
HurryBunny's impressive sales revenue is driven by its diversified revenue model:
Commissions:  Collaborating with restaurants and supermarkets, HurryBunny charges a commission for every order, positioning itself as a reliable delivery partner.

Delivery Fee: A nominal fee from customers ensures timely and efficient delivery.
Advertising Revenue: With its vast user base, HurryBunny offers advertising opportunities for businesses, further boosting its revenue.
Challenges: Turning Stones into Milestones
HurryBunny's journey wasn't without challenges. On the user front, ensuring a positive app experience, real-time order updates, and timely deliveries were paramount. The introduction of the "Verified" badge, signifying adherence to hygiene standards, showcased HurryBunny's commitment to quality.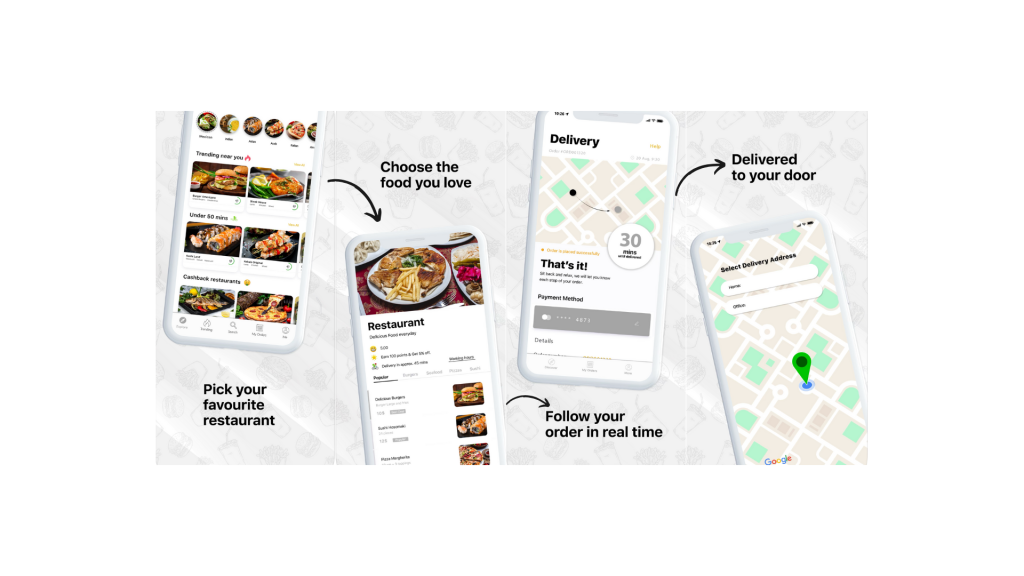 Enhancing User Experience:
Challenge: Creating an intuitive, user-friendly interface.
Solution: Zeew's technological expertise facilitated a revamped app and website design, ensuring a seamless user journey from browsing to order placement.
Real-time Information Access:
Challenge: Providing users with up-to-date information on menus, prices, and delivery times.
Solution: Integration of dynamic systems that offer real-time updates, ensuring users are always informed.
Efficient Delivery Protocols:
Challenge: Ensuring punctual deliveries, especially during peak demand periods.
Solution: Zeew's algorithms optimized delivery routes and schedules, while HurryBunny increased its fleet during high-demand windows.
Upholding Health Standards:
Challenge: Guaranteeing that partnered restaurants adhere to health and hygiene standards.
Solution: The introduction of a "Verified" badge, signaling to users which restaurants meet stringent hygiene criteria.
Strengthening Vendor Relations:
Challenge: Streamlining the onboarding process, ensuring vendor visibility, and managing timely payments.
Solution: A comprehensive vendor dashboard, powered by Zeew, was introduced. This dashboard allows for efficient order management, payment tracking, and promotional activities. Additionally, regular training and updates are provided to vendors to ensure they maximize the platform's benefits.
Optimizing Delivery Management:
Challenge: Ensuring that food and groceries are handled with care and delivered efficiently.
Solution: With Zeew's technology, orders are strategically assigned based on the proximity of delivery executives to vendors and their current workload, ensuring timely and efficient deliveries.
Zeew's Integral Role
Zeew's collaboration with Hurry Bunny was more than just a partnership; it was a technological revolution. Together, they developed three distinct applications:
Customer App: A user-centric platform for browsing, ordering, and tracking.
Vendor Dashboard: An all-encompassing space for vendors to manage their operations.
Delivery Agent App: A real-time platform for delivery agents to manage orders, track locations, and update availability.
Zeew's expertise in providing tailored tech solutions played a pivotal role in HurryBunny's success, ensuring a smooth ordering process from start to finish.
Conclusion
HurryBunny's collaboration with Zeew has set a new standard for food and grocery delivery in Saudi Arabia. By addressing challenges head-on and leveraging cutting-edge technology, they have redefined convenience for their users. Today, Hurry Bunny is not just an app; it's a phenomenon. With millions in sales revenue and an ever-growing user base, its success story is a testament to its vision, resilience, and the power of strategic partnerships. As Hurry Bunny continues to soar, one thing is clear: with Zeew by its side, the sky is the limit.
To Create your own market place like hurry bunny, get in touch with us today