About Foodify:
Hungry and craving delicious food delivered to your home? Look nowhere and just Foodify it! Yes, Foodify is an on-demand service platform that aims to replace traditional ordering and deliver food at home.
Did you know? All deliveries are made with 100% electric cars.
Foodify does not just deal with food delivery but a lot more. From restaurants to fast food to groceries supplies, liquor, and pet supplies. Foodify believes in making the customer experience positive and focuses on delivering satisfaction than just regular orders. We believe that the most important part of our development process is creating a solid relationship with our customers by meeting and exceeding their needs and expectations. Our mission is to develop strategies that place our customers at the top of business intentions. We are dedicated to accomplishing tasks, regardless of whether it is food, shopping, a bouquet of flowers, or a gift for loved ones. Whatever the situation, whatever the mood may be, we are committed to delivering satisfaction and smiles to our customers!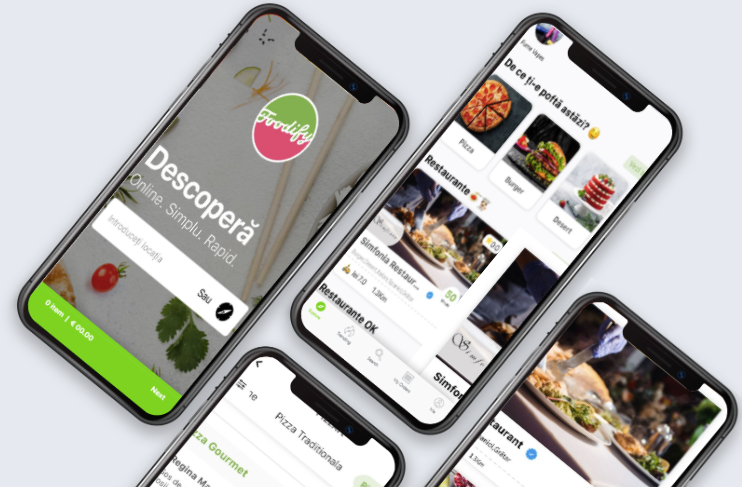 Business Plan:
The idea of Foodify was developed to bring change in the food delivery market, a market in which people were deprived of both – good quality food and a variety of food options. Slowly as the demand grew it penetrated into other markets too.
The main aim of Foodify was to drive convenience for its customers and vendors. When it comes to customers, they do not like to wait in long queues or call a restaurant to place their order, with a click of the app making it more comfortable and convenient. Likewise, it is difficult for vendors and restaurants to take orders manually and try to process them individually. With a vendor dashboard, it makes it very simple to track and manage orders.
The business model of Foodify is simple and very common like the other online delivery apps. A customer chooses a restaurant/vendor and places an order. The order is prepared and packed by the vendor. Once the order is handed to the delivery executive of Foodify, the Foodify team fulfills it by delivering it to the customer.
The process sounds like a very simple 3-step process, but at every stage, each function and feature of the app/website communicates with the partner apps (vendor and delivery apps) to offer each customer a hassle-free experience. Foodify is built on top-notch technology partner Zeew a platform that builds out-of-the-box solutions for varied business industries. At Foodify, our aim is to improve and provide our customers, vendors, and delivery partners with a smooth user experience, and hence we constantly focus on developing features using a robust technology platform. Addressing the challenges customers, vendors, and delivery partners face, Zeew has built unique and customized features to address each one of them and provide a smooth user experience. At Foodify, our technology team is constantly assessing users' behavior and experience on our channels to build better features.
Revenue Stream:
Commissions: As an on-demand delivery partner, the main channel that brings revenue to Foodify is by charging a commission of 15% to 30% to vendors and partners.
Delivery Fee: To deliver orders to your neighborhood, Foodify calculates the distance and charges customers a delivery fee to get the food delivered to their desired location.
Other charges: Foodify also allows users to subscribe to their Prime Membership and enjoy exclusive deals and offers. Provides a great opportunity for vendors to advertise on their platform to gain reach and more orders.
Challenges:
Founded in the year 2017, Foodify has faced a set of challenges from customers, vendors, and delivery partners, With time it has developed the right features and is still in the process of building new features based on user data and making the overall experience a positive one for all audience segments. Based on real-time feedback received, Foodify has developed features using robust technology and overcome its major challenges.
More startups are joining the league on the same line. Romania saw an influx of on-demand delivery companies rising during the pandemic period. A strong backing up by investors allows these newcomers to acquire users building a strong marketing presence. But, Foodify with its technology and unique features had a strong holding.
Customer retention and loyalty:  Be it customers, vendors, or delivery partners, loyalty seemed to be a major challenge to tackle. Foodify had to constantly come up with unique incentive offers to keep the vendors and delivery partners motivated, and came up with combo deals for customers to place orders via Foodify.
Vendor Management: At times, vendors forget to update their product details which can lead to customer dissatisfaction due to the unavailability of products.
Real-Time Updates: It is a technical feature, but it could cause a huge impact if one app stop functioning, it could hamper the entire process from order management to order fulfillment.
Order Taking Channels:
Foodify chose Zeew as their robust technology partner to build a brand that offers convenience. Zeew had perfectly designed features for on-demand delivery services and marketplaces. Foodify's order-taking channels were mobile applications listed on Android and iOS, along with a mobile-friendly website. With sophisticated third-party channel integrations and payment integrations, Foodify can process end-to-end food delivery hassle-free.
They have built 3 applications to drive one order. The first app is a customer-facing application to place orders, the second app/dashboard that the vendor accesses to process orders and manage their listing, and the third app is accessed by delivery agents to update order delivery status, show their availability and location, and more. All this is designed in a package with customized features offered by Zeew. They understand the space rightly and have developed a seamless ordering flow:
Order Processing for different categories ranging from restaurants to pet shops.
Vendor Management by listing different vendors belonging to different categories providing different products and services.
Delivery Management for different order requests.
Super Admin with 500+ features.
Time taken to complete the project:
1 week
The competition is getting tougher by the day in the online food delivery and on-demand delivery industry. As the demands of the customer increase, more and more companies will enter the space to provide customers with the features they are looking for. With Zeew, it makes it easier for industries to not spend a lot of time building and testing new features. With pre-defined features, all brands need to do is plug and play. Pick from a list of features that would serve your audiences rightly.
Zeew has decades of experience building apps and websites that focus on driving business with a strong and positive customer experience. From customer profiling to vendor management to real-time order updates, every small to larger feature has been closely analyzed and worked on. Book a demo for with their expert and get to know more about Zeew.